Fr. Rick's Two Minute Homily for Tuesday 17th Week in Ordinary Time 6-26-2022
Tuesday 17th Week in Ordinary Time 2022
Matthew 13:36-43 https://bible.usccb.org/bible/readings/072622.cfm
THERE IS STILL TIME TO CHANGE.
Procrastination can cause us a lot of stress. As a result, we form habits we like relatively quickly. If we aren't in the practice of examining our conscience every night, bad habits go unchecked. When we examine our conscience before making a good confession, we ask ourselves, 'How could I do something like that?'
Something we might not consider is the bad example our sinful conduct is selling to other people. Thank the Lord for His patience and a stern warning in today's Gospel. "The Son of Man will send His angels, and they will collect out of His Kingdom all who cause others to sin and all evildoers and throw them into the fiery furnace."
The Lord has much patience, for even while we commit sin and set a bad example to others, we are still in His Kingdom. He gives us time to make that examination of conscience and good Confession. So, take some time and put on the back of the Lord the Cross of unrepentant sins and scandals that lead others to sin. Long to hear His words through the priest, "I absolve you of all your sins, in the Name of the Father, and the Son and the Holy Spirit, Amen.
Ahh! At last! Free from sin and scandal. Peace everyone.
IGNITE THE FIRE!
Fr. Rick Pilger, IC
pastor
Fr. Rick Pilger, I.C.
Pastor
Blessed Sacrament Church
11565 66th Ave. N.
Seminole, FL 33772
727-391-4661
pastor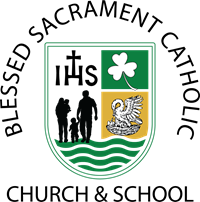 or .